Corporate events are the perfect opportunity for companies to showcase their revenue and a chance for every employee to participate in a social get together. No corporate event can be complete without corporate event catering. Choosing the right event caterers is a daunting task. Poor catering can lead to embarrassment. Whereas, on the flip side, if the corporate event catering turns out to be finger-licking, then the event is remembered for years to come. It is an obvious theory that guests at any event look forward to the food rather than anything else.
Reputed Corporate Event Catering
An authentically reputed corporate event catering company should provide a bespoke event catering. Everything needs to be personalized from tablecloths to attractive dishes. A reputed caterer must be experienced and must have handled several top-level corporate events.
A reputed caterer must be an expert in several mouth-watering cuisines such as Gujarati, Rajasthani, Oriental, Mexican, Middle Eastern and Italian. There needs to be a signature style and the attitude of the caterers must be progressive and benchmarked on perfection.
A reputed caterer for corporate event catering must be flexible and scalable. The requirement for the event can quickly change from 20 to 4000 persons. There should be no room for any last-minute mistakes. The event can stretch past the allotted duration of the event. There can also be a situation where the food ordered could exceed the number. Tackling such situations is a must for a reputed caterer.
#5 Benefits of Corporate Event Catering
We know how important corporate event catering is at various corporate events. The food needs to stand out. But some genuine benefits are:
Branding: Corporate events don't just cater to the current employees, it is also an event where outside partners, press, and well-wishers attend. With a professional catering setup, the company's brand value can be boosted. A good rapport is built with guests that can lead to the generation of sales.
Professional Service: Good corporate event catering is performed by expert service providers. That is why you can rest assured about the catering for such a high profile corporate event. Professional caterers provide several suggestions at the venue. Supervision is key to prevent any untoward incidents. The quality expected is top-notch. The high standard of food being served can leave the guests impressed. The better the food, the better the guests enjoy themselves. 
Hassle-free Planning: Preparing for the food by yourself in-house can lead to chaos and hassles. Hiring a corporate event catering company aids in proper planning and better selection of ingredients. This way methods such as marinating, preparing, cooking, presentation and even post clean-up is done systematically. The hygiene maintained is also to be considered. Safety is also important. There are gas burners, ice carving and other requirements that need professional supervision.
Variety: Hiring a corporate event catering company allows you to choose from a variety of delectable dishes. Vegetarian and Non-vegetarian guests can be catered to easily. All you need to do is sit with the caterer and prepare a list of required dishes and leave the rest to the caterers. Barbeque, canape's and mocktail/cocktail counters can be chosen from if the need be.
Time & Cost Savings: A good corporate event catering company allows you to save time and money. This is important in not just executing the orders during the event, but also planning the event with time and money spent elsewhere such as presentation, lighting and seating arrangement.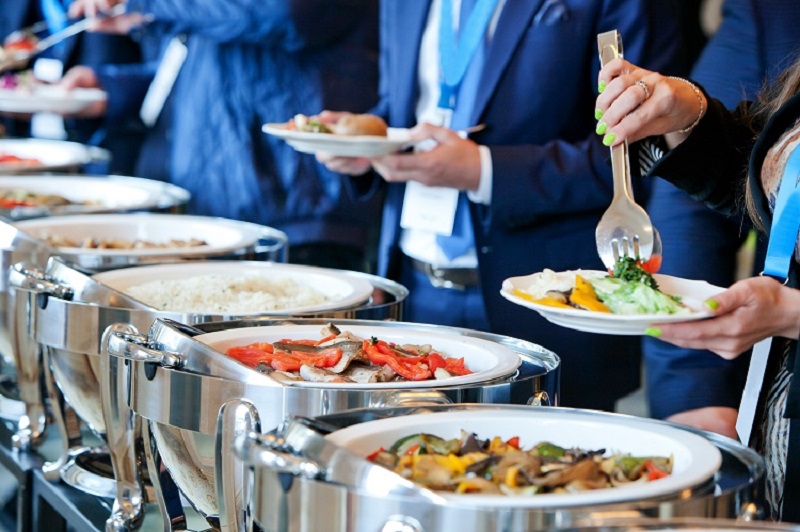 Most corporate event catering companies also provide waiting service. This adds a professional touch to your corporate event.