With a proper layout and outdoor play equipment, you can design the playground of your school. There are different types of school playground designs available online and they can provide many benefits to your students, especially children studying in the school. But, it is difficult to choose the best school playground design and in this regard.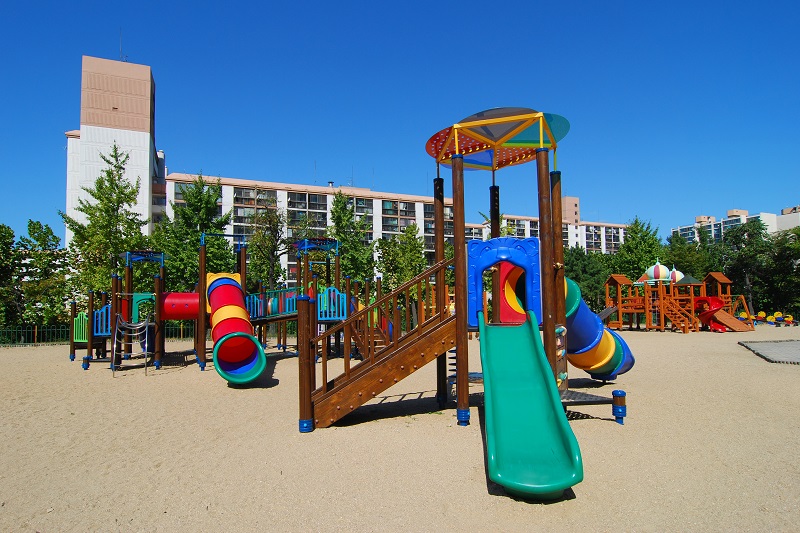 You can read the following ideas to make your school playground more attractive:
Inviting school playground design: You need to design your school playground with some natural elements which must be in a way that it invite pupils. In this regard, you need to install all equipment in accessible place and you can design two separate playgrounds for junior and senior children. Children playground should be attached with your main school building and you must install secured pathways to access such playground. Being overprotective of your school playground cannot invite students and children, so do not install any barricades in your school ground. Especially, you must avoid using wire mesh fencing for junior children playground because they are harmful for kids.
Discovery design: You must choose some school playground designs that can be fun for your students. For example, you can install a trim trail on your ground and include exciting equipment at the end of the trail. So, children can discover new things and you can include climbing towers in your playground as adventurous sport equipment. It is suggested to install the climbing tower at the center of the ground and children can discover all other pieces of equipment from the top of the tower.
Small school playground: If you have a small space for school playground designs, then divide the same into two parts. Then install secret gateways for the small playground, and install some sand and water areas in your playground. Children can play with such natural elements, and you can install puzzle zones in your ground. These equipment will boost the creativity of your students and they will learn lots of things including math, counting, and group activity with these equipment.
Managed risk measurements: You need to provide adequate learning equipment to your students to make them learn risk management system. In this case, school playground is an ideal area because you can install risky equipment in your school playground. Such equipment can boost the self-confidence level of your students. You can install balance beams, climbing walls, monkey bars, and rope climbing equipment in playground. But when you deal with such risky equipment, you must maintain all safety measurements. In this regard, you can discuss the same with the designers and they can help you to choose the best school playground design with all safety measures.
Hangout zones: You must include some hangout zones in your school playground design because some puppies do not like noisy environment, and they feel more comfortable in a secure place. In this regard, you can design few areas of your school playground with green grasses and install few benches in these areas. You can include some bird house, planters, and bug houses in these seating areas. During summer, your students can take rest under these shades and you can design these sitting areas with some blankets or boxes. Children can keep their books inside these boxes and communicate with their friends under these shades.
Different play zones: You must sketch your school playground design with different play zones such as nature area, water area, sand playground, climbing zone, outdoor playground and kid's zone. So, your students can access these areas according to their age and needs.
It is suggested to search some best school playground designs online and discuss equipment to install in the playground with a reliable designer.