Women boxing are becoming popular day by day. The boxing gloves are the basic tools which you need to buy when starting out sports like kickboxing. Today even professionally female boxing is becoming as popular as men boxing.  From the year 2012 Olympic Games, women boxing has been allowed as one of the main events. The large-scale acceptance has made more female enthusiasts come forward and engage in training. This is evident from stores where women boxing gloves are having an increased demand at all times.
Types of Women Boxing Gloves:
Several characteristics define the quality of women boxing gloves such as size, weight, ventilation, material, resistance, among others. One of the primary differentiation between men and women boxing gloves is their sizes. A male boxing glove is larger than women boxing gloves. The range of weights for women boxing gloves varies in between 8oz, 10oz, 12oz and 14oz. Boxing gloves are also distinguished in two primary ways and these are boxing for fighters and trainers.
a) Training Gloves: Training women boxing gloves are designed mainly for lowering the effect of padding and punching of the training tool and mainly used for basic sparring. The weight of training gloves can be between 10oz and 14oz for a comfortable session. They have a classic rounded shape at the top and this helps absorb the major impacts of the entire hand. There are also heavyweight gloves which have padding in specific regions. They are heavy in weight owing to the added weight needed to withstand huge impacts. Some of the latest training women boxing gloves are made with foam which is extremely light to simple to move.
b) Frightening Gloves: These women boxing gloves are worn for fighting in a competition. They have amateur as well as professional versions and are much lighter than the training gloves. They are often enclosed with laces and not Velcro straps in order to make them have a tight fit.
Choose the Right Women Boxing Gloves: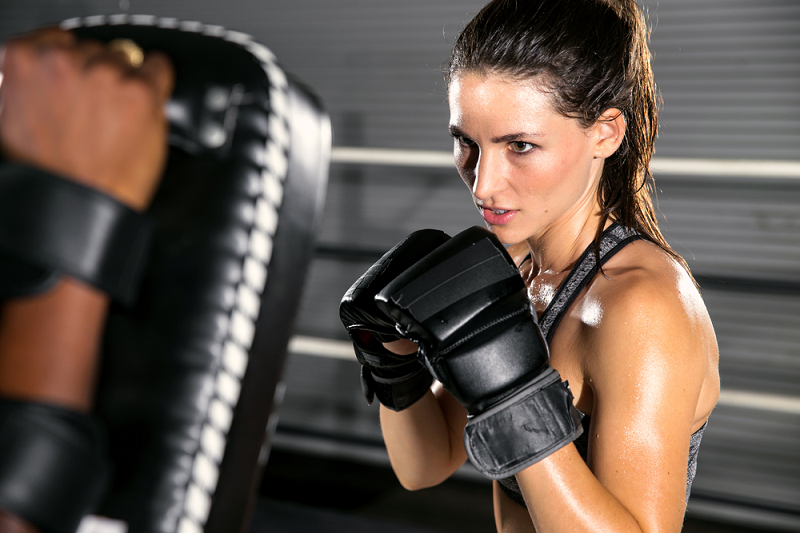 1) Choose the Right Size: Determining the right size is a must in order to pick the correct women boxing gloves. The size of the gloves is displayed in oz or ounces. The size is also chosen by the padding amount present inside the gloves. Depending on the amount of protection you want for the hands you will select the padding. Beginners are suggested to use big size gloves for added protection.
2) Choose the Type of Gloves:  Different kinds of boxing sports require the use of a varied type of gloves. It is also best to have more than one glove to help you sustain through the entire training period.
3) Boxing Gloves Categories: Women's boxing gloves are smaller and come in a diversity of prints owing to the increased demand for style in sports. It is very important for women to wear female gloves because the bone structure of men and women is different from one another. In addition, these gloves have a smaller size, able to fit the hands better. So if any shop keeper says that there are no specialized women boxing gloves then he or she is probably not saying you the truth. Some of the designs which you will find these days are revolutionary. They offer style and never compromise with comfort and protection. 
Always select the women boxing gloves from a reputed and reliable sports shop. When you are learning boxing you can always consult the teacher to guide you on the right kind of gloves. Just as you train and become a better professional you will require upgrading your gloves as well.