The deck is probably the most fun area of your house. If you already have one, you would definitely know its advantages and if you are planning to get one, be sure it is one of the best decisions you'll make. You can have friends over for a small get together on the deck or just relax with your family over the weekends. Using the right decking material is essential for you to achieve the look that you desire for the deck. Hardwood decking is becoming increasingly popular due to the various advantages that it offers.
5 essential advantages of hardwood decking
Strength & Durability: The deck is an extension of your home it is usually not a part of the initial structural planning. Hence you want it to be strong enough to support a few people moving around or may be even dancing on it. With hardwood, you get the strength you desire. Moreover, since the wood is durable, you'll not have to worry about changing the wood frequently.
Natural Exteriors: The hardwood blends with the exteriors. Since the deck is usually in an open space with trees or greenery, wood becomes an excellent choice for the deck to blend in. Moreover, the look of hardwood is much better than synthetic materials and other types of wood. Its colour and texture are more natural, which is something that you'll appreciate.
Budget Friendly: Usually options that appear rich and elegant are expensive, however, if you opt for hardwood decking you will be pleasantly surprised that the pricing is not over the top. You will be able to get hardwood decking done at a much lower price when compared to a lot of synthetic materials. This is very important especially if you looking to renovate your entire house. With hardwood, you will be able to get the deck that you desire without burning a big hole in your pocket.
Multiple wood options: In case you are looking for diverse types of finishes, you can get them with hardwood as well. There are multiple types of hardwood that you can choose from. These come from various parts of the work and have a distinct colour, shade and finish. The pricing is also different, so based on your choice, budget and finish preference you can choose from between Ipe, Camaru, Tigerwood, Massaranduba or Garapa.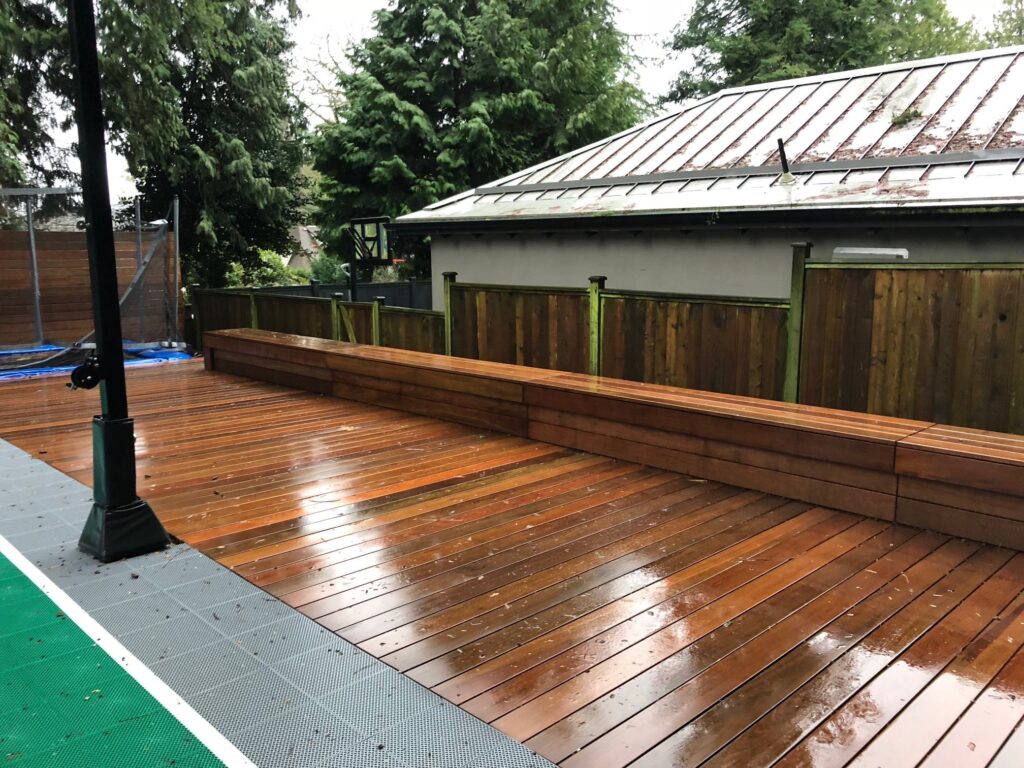 Easy Maintenance: Unlike a lot of other decking materials, hardwood does not require a lot of sanding or stripping on a periodic basis. Basic cleanliness and maintenance are good enough for the hardwood decking to be as impressive and sturdy for years. It is also resistant to issues that arise from extreme climates. A lot of wood or other synthetic material cannot withstand extreme heat or winter. However, with hardwood, no such problems occur. Your deck will be a great option in the heat as well as in the winters. This means that you can opt for hardwood decking at almost any place.
With so many benefits as well as the ability of hardwood to uplift your deck giving it a modern and elegant feel, it is a no brainer that you should opt for hardwood decking. However, when you opt for hardwood decking, you must check the quality of the grains and the polishing of the timber. Apart from this, the grade of wood and the maintenance requirements should also be taken into consideration. There are many hardwood timber suppliers available who supply the decks or else customize them according to your requirements. You can contact them regarding the graduation of wood, the polish and the rate of installing the hardwood deck.