Headstones are usually placed at graves in the memory of a loved one or a famous personality. Headstones are usually made of fieldstones, granite, marble, limestone, sandstones, or slates. The most common type of headstones has the name of the deceased along with his lifespan engraved on them. A special note from the family is also common regarding the individual for e.g.: "Here lies a beloved mother, wife, daughter etc." or "Here lies a soldier who served his/her country well" and more. Some also mention Bible Quotes.
Here are some tips to buy the best headstones
A seller with multiple styles – When you are buying a headstone, go for a seller who offers multiple styles for headstones. You can go for flat markers, bevel or slant markers, or even ledgers. You can buy them from cemeteries itself as many cemeteries sell headstones within their premises. You can also buy them from third-party retailers, funeral homes or even online with a click of your mouse. In some communities, the prices and qualities of headstone vary as per the wealth of the community, or as a mark to show off their prestige in the society.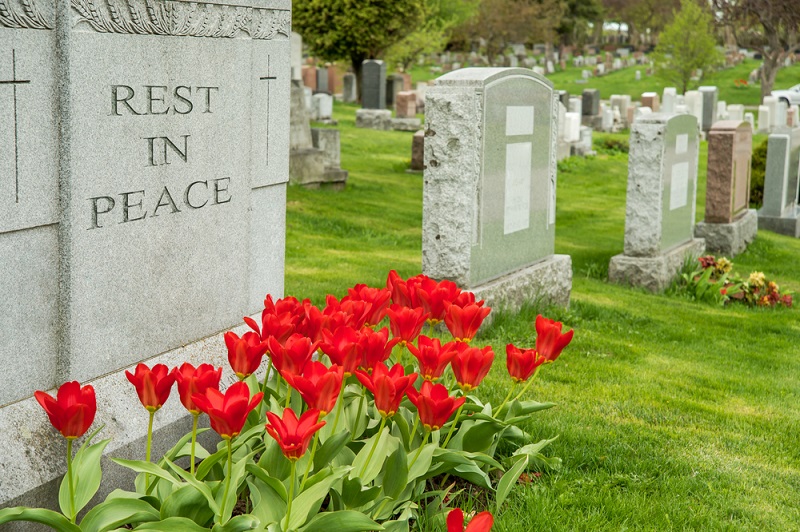 Check the price – Buyers of headstones, generally have a budget as these are made of stones or granite and might be pricey in most cases. Go for a seller who offers discounts and reasonable rates. The best way to do it is to compare prices offered by sellers online by browsing multiple websites. Remember, the larger the headstone the more expensive it will be as the price is usually calculated according to the weight.  Personalized messages and materials like Italian marble cost more than when you choose sandstones for the headstone.
Avoid third party purchases – While purchasing a headstone online from a third-party retailer may seem simple for you, remember it is definitely going to be costlier as there will be shipping charges involved which is usually very high given the fact that most headstones made of stones are quite weighty.
Always best to buy from the cemetery – Most funeral rules imply that you should buy the headstone from the cemetery itself as it makes the installation process easier and faster. However, if you still choose to buy the headstones from a source outside the cemetery, chances are that the cemetery will charge you for the installation and inspection of the same.
Choose the material, design and inscriptions – Go for headstone sellers who offer a wide variety of material to choose from. The best ones also offer a wide variety of designs. For the inscriptions, you may go for headstones with already engraved inscriptions to which you need to only get the name of the person engraved with his birth and death dates.
Make a note of a seller's credibility – Do enough research online and read testimonials to know your sellers' credibility. Go for sellers with high ratings and positive reviews. If you are purchasing online, you have the advantage of comparing multiple sellers before you finalize.
Price and customer service – Price is an important factor to consider while buying headstones. Compare prices offered by multiple buyers before you make a choice. Generally, sandstones, granite, field stones and limestones cost little less when compared to high quality colored or white marbles. Apart from price, ensure you get good service from your buyer, which includes giving you suggestions for the right headstone after inspecting the location, price discounts, and prompt delivery and maintenance facilities.
Your loved ones lost will always be a part of your life in sweet memories. Do something special for them once they are gone by giving them the right headstones for their graves. Follow the tips above while choosing, and you would have no problems in getting the right one for your loved ones' grave.