Pallets are a predominant boxes that used for both industrial as well as residential purposes to store, stack and move materials from one place to another. No warehouse can stand on their own without the installation of organized pallets. It is usually made of wood and moved using a forklift. As technology progressed, conventional pallets found new materials like metal and plastic to make it more usable and streamlined for many different applications. Wood befits conventional culture of industry, and though there are plastic and metal pallets sturdier than wood, wooden pallets are still considered steadier and used for transporting large-scale items.
But have you ever thought what happens when wooden pallets grow old and become second hand goods. Second hand pallet is another interesting subject that hold as much importance as fresh products. Many people don't know what to do with those used second hand pallets and just think of throwing them outside their home. To your surprise, you can always make the best out of what you consider as waste. You can capitalize on second hand pallets to carve variety pieces of furniture and save total cost. Here we are going to learn how you can reuse seconds hand pallets without killing your budget.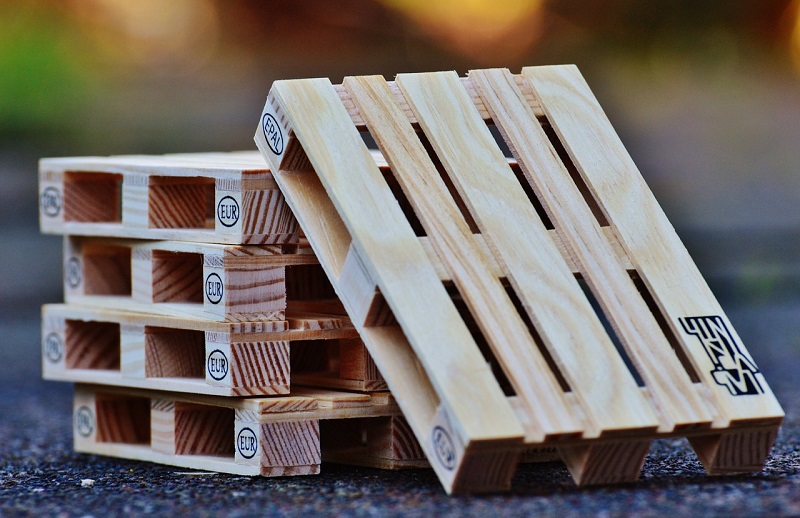 Substitute for new pallets
Fresh pallets can make people work hard to get since they are little costlier than used material. But there is always a hope for getting good quality second hand pallets that you can use for storing or as moving boxes. Also, you will not cause any serious pollution to environment around you nor do thing you put inside it will get contaminated. Old pallets can be reused efficiently for many other projects including transporting articles or storing them somewhere inside your house.
Disassembled second hand pallets
Second hand pallet made from wood can be dismantled or disassembled to give it different shape and structure using small, useful tips. These used pallets can be disassembled into wood frames or racks and utilized for many projects associated to home décor and artistic beautification. This second hand wood may appear a little rustic; however, a little bit of paint, graffiti and finishing can bring amazing improvement to second hand pallets.
Are you still wondering how to use old wooden pallets to reduce the furniture cost for your home improvement? Here are some of tricks you can perform to make your house a better place to live without investing a fortune.
Craft your way
Compared to the pallets made of different materials, wooden pallets come handy when it comes to deriving practical value from the debris-like material. You can use your craft and magic to carve out creative items, furniture, figurines, object of recreation. You can use your imagination and turn the waste into best with innovative tactics.
Boot storage
Separate wooden blocks and racks from old looking second hand pallet and assemble them in a thoughtful way to give it a shape of boot storage boxes. You can make it individually for each member living under your roof. Hanging them on a wall also adds system and order to residential boot storage.
Coffee table
If you go online, you will find artsy folks etching compelling art on wooden pieces and using it for their home décor. Coffee table is one such thing that can be designed from second hand pallet with or without glass on the top.
Animal pet house
Good quality second hand pallet can be used to make houses, cages and fences for your domestic pets. You can easily arrange those wooden pieces into a specific shape and size that is suitable for living. This way, you will not have to spend extra in order to look after your pets.
Musical instruments
For years, musical instruments are made out of naturally available wood that produces special sound or supports sound-generating threads. Guitar, violin and harmonium are all made out of wood, and old, discarded wooden pallets can transform into beautiful, inexpensive musical instruments.
Tables, chairs and dartboard and many more
Name the furniture you see in your house and wooden pallets will make it come true for you. From center tables, chairs, shelves, to beds and backyard, there is nothing second hand pallet cannot do for you. Extract some wood from discarded wooden pallets and build a staircase, lawn fencing or an elegant frame that flaunts your creative vision.