Dental care is extremely important from the point of view of the overall wellbeing of the body and general hygiene. A wonderful smile adds to the overall personality of a personality and this is where the role of a dentist comes into the picture. Dentistry is a vast field and there are different types of dentist handling a different kind of dental problems. In some cases, you may even have to visit a dental specialist for treating different areas of the mouth.
There are basically seven types of dentists and each of them has a specific role which can you can find it below:
1. General Dentist: Dentists play an important role in our lives. Maintaining oral health is the main duty of general dentists.  This day to day role of such professional includes taking x-rays, checking for cavities, dental cleanings, and teeth whitening services.  Repairing of chipped, cracked and a missing tooth, treating tooth decay, fillings, etc. are also some of the oral care treatments that they offer. In case if they are not qualified to do some particular dental treatments, they will refer you to a dental specialist.
2. Endodontist: 'Pulp' is a soft and sensitive tissue which is located below the gum line and is in the inner part of a tooth. The role of an endodontist is to focus on problems related to the pulp.  Sometimes, the pulp can get damaged due to an injury on the gum, inflammation, tooth decay etc.  They may have to remove the pulp by performing a root canal or simply clean the decayed area. Based on the gravity of the damage the endodontist will take a decision whether to preserve the tooth or to remove it.
3. Pediatric Dentists: Just as a pediatrician focuses on the overall health of your child, a pediatric dental specialist focuses on the oral health of your child right from infancy to their teens.  Performing routine examination, teeth cleaning, diagnosis of cavities and thumb sucking habit counseling etc. in children are some of the tasks of a pediatric dentist. 
4. Orthodontist: They are also called as 'Alignment specialist'. Orthodontist's role is to diagnose misaligned teeth and jaws, occlusions, teeming mouth, etc.   In case of improper alignment, they will pull the teeth together by putting braces. Small children may have excess teeth which can overcrowd the mouth and it also doesn't look appealing. This is where they will remove the extra teeth and create a much-required spacing, thus making it look appealing.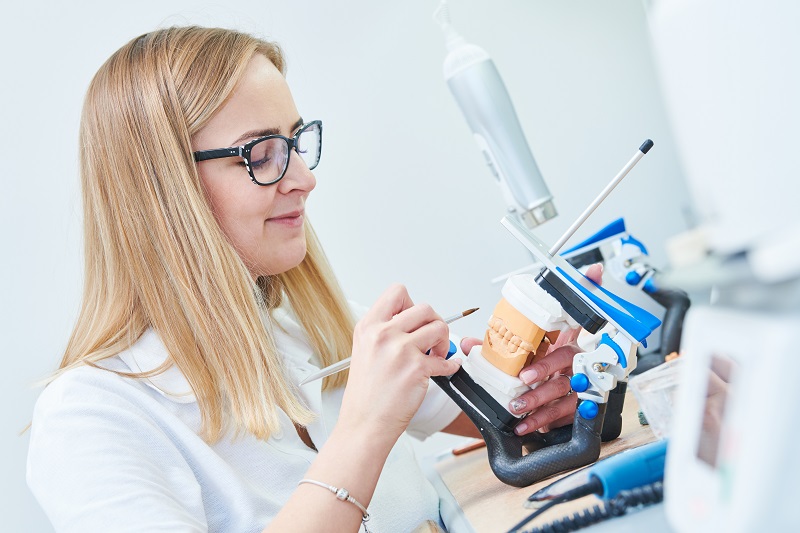 5. Oral and Maxillofacial Surgeon:  Oral and Maxillofacial surgeons focus on problems related to the hard and soft tissues located in gums, lips, facial tissues, cheeks, etc.  They are specialized in performing complex tasks like extraction of cancerous tissues, extraction of a complex tooth, jaw surgeries, etc.
6. Prosthodontist:  The main role of a prosthodontist is to provide cosmetic dentistry to improve the overall appearance of your smile. They do so by restoring damaged teeth or by replacing lost teeth with better alternatives. Their area of specialization includes fitting of oral prostheses which include veneers, bridges, crowns, etc.
Normally people don't go to dentists until there is a frustrating pain. It's really advisable to visit a dentist at least once in a year and get you to examine for any kind of dental problems. They help you to maintain proper oral health as well as work on the appearance of your teeth and restore the overall health.